Zucchetti product range includes mixer solutions for a wide variety of process industries: Adhesive, Biotechnology, Chemical, Oil & Gas, Packaging, Petrochemical, Pharmaceutical, Plastic, Polymers, PVC, Resins, Water Treatment.
Our mixing technology is especially and steadily used for critical agitation systems where high levels of pressure, temperature and viscosity are very difficult to manage without proper experience and Know-How.
As ZUCCHETTI firmly believes that every industry has its own critical factors to identify and understand, we develop every project working closely to the customer in order to guarantee and ensure the highest level of quality, efficiency and reliability. We constantly assist and help our clients to solve their problems and suggest advanced solutions which create exceptional value in order to exceed their expectations in quality, delivery and cost through continuous improvement and customer interaction.
Zucchetti mixing equipment are designed and manufactured in accordance wit
h the specifications of worldwide recognized licensors of ABS / PE / HDPE / LDPE / LLDPE / PP / PET / PTFE / PVC / SBR / SSBR production processes like ExxonMobil, LyondellBasell, Ineos Vinyls, Jacobs, JGC, Maire Tecnimont, Mitsui, Polimeri Europa, Solvay, Technip, Toyo, Uhde, Versalis.
ZUCCHETTI MIXERS Technical Data:
Power from 0.5 up to 600 kW

Shafts with diameters from 30 to 400 mm and length up to 20,000 mm

Impellers with diameters from 100 to 6,000 mm

Single, Double and Triple Mechanical Seals

Materials: Carbon Steel, Stainless Steel, Hastelloy, Monel, Titanium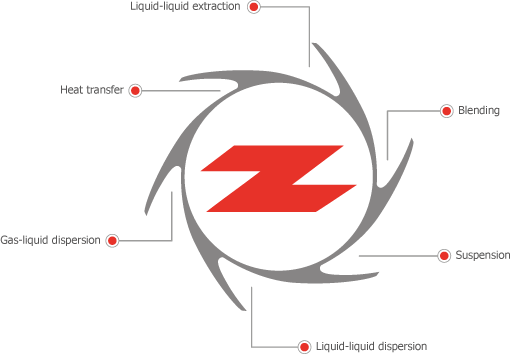 ZUCCHETTI MIXERS Typical applications
Acrylonitrile Butadiene Styrene (ABS)
Linear low-density polyethylene (LLDPE)
Low-density polyethylene (LDPE)
High Density Polyethylene (HDPE)
Nylon-Polyamide (PA)
Polybutadiene Latex (PBL)
Polybutylene terephthalate (PBT)
Polyethylene terephthalate polyester (PETP)
Polyethylene (PE)
Polyethylene terephthalate (PET)
Polypropylene (PP)
Polytetrafluoroethylene (PTFE)
Polyvinyl chloride (PVC)
Styrene Acrylonitrile (SAN)
Styrene Butadiene Rubber (SBR)
Solution-polymerized Styrene-Butadiene Rubber (SSBR)