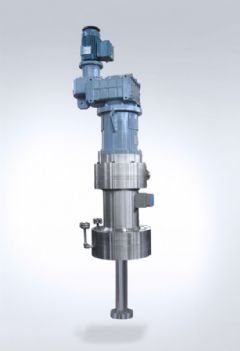 This page talks about: magnetic mixers
WHY CHOOSE ZUCCHETTI'S MAGNETIC MIXERS
ZUCCHETTI's mixing solutions - like magnetic mixers - are equipped with a magnetic coupling assembly composed of an outer magnet and an inner magnet. When the outer magnet assembly rotates the torque is magnetically transferred to the inner magnets in connection to the mixer drive shaft.

ZUCCHETTI's magnetic drive mixers are steadily used in the chemical, pharmaceutical and biotechnological industries. Important advantages of our magnetic mixers are their compact design, their minimum maintenance requirements and high reliability.

ZUCCHETTI's magnetic mixers are suitable for process with high pressure and temperature to prevent hazardous vapor emissions and product contamination.
Top-mounted and Bottom-mounted ZUCCHETTI magnetic mixers can be equipped with the direct drive motor (for installed power up to 5,5 kW and pressure up to 50 barg) or Gear Reducer (for installed power up to 75 kW and pressure up to 150 barg).
You can ask us further informations about magnetic mixers writing at the following email address info@zucchetti-mixers.com